Welcome to the official website of the
Zamasu

/

Goku Black

2020 presidential campaign!
Make history by lending your support towards electing the first non-mortal president and bringing the change that this world is desperately crying out for!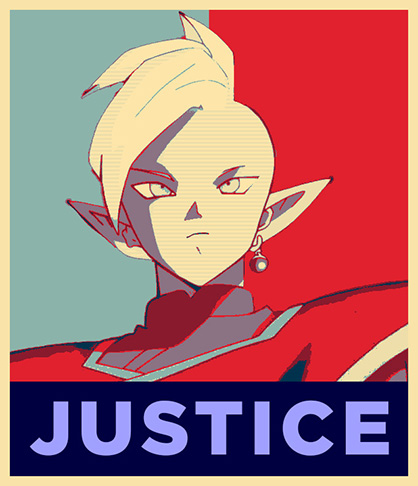 Fact: 100%
of all violent crime throughout history was committed by mortals, this includes
100%
of all rapes and murders. Ever wonder why not a single political party, mainstream or otherwise, is willing to tackle this issue? It is because every single one of them was founded by mortals and
exclusively counts mortals in their ranks!
One can no more solve the mortal problem by voting for such perfidious charlatans, than one can put out a fire by pouring more gasoline on it! As the
first Kaioshin president
, I vow to be the one to
break the cycle of iniquity, death, destruction, and violence
that mortals have perpetrated without end for the many wretched millennia of their existence. I will bring
real, progressive change
to this world and restore the environment to its glorious former splendor.
Vote for justice. Vote for beauty
Vote for Zamasu and Goku Black.
Policy Positions
Abortion
Crime and Punishment
Diversity
Environment
Government Restructuring
Medical Care
Military
Religion
Abortion
Abortion-on-demand is a surprisingly splendid development in human history, and one that Zamasu approves of wholeheartedly. As your president, he will support and expand abortion rights to the full extent of his ability. Abort your child at birth? Approved. Abort your child after birth? Go ahead. Abort somebody else's child? Absolutely.
Crime and Punishment
Zamasu is a firm believer in upholding the law and enforcing justice above all. As president, he will act to finally have the act of being a human recognised as the heinous crime that it is by having it be punishable by the death penalty.
Diversity
Zamasu is the first Kaioshin politician in Earth's history, and his vice president the first ever transdeity (God-to-mortal) politician. As such, this makes them the most diverse and progressive presidential ticket of all time.
Environment
Zamasu recognises the deplorable state of the environment and acknowledges the suffering that Nature is undergoing at the hands of mortals and their atrocious stewardship of this planet. Zamasu's Zero Mortals Plan will cut pollution by an estimated 100%, end deforestation, reduce carbon emissions to the lowest level in centuries, and allow the eyesores that are human settlements to be reclaimed by nature's splendour. Zamasu's platform is objectively the most green and environmentally friendly platform of any politician in history.
Government Restructuring
As your president, Zamasu will save untold billions in taxpayer money by permanently abolishing the other two branches of government, as well as dismantling every government agency. Mortals' history has shown time and time again that there is no place for any of them in leadership roles. To let mortals lead mortals is akin to letting the blind lead the blind.
Medical Care
Zamasu recognises that mortals are a wholly inferior people that, among their other faults, suffer from an embarrassing range of medical problems and routinely pass away before living out a single century. Zamasu's ambitious Zero Mortals Plan is guaranteed to relieve all mortals of their ailments, while also saving billions in healthcare costs.
Military
Zamasu rightfully views the military as an archaic organisation that is only required due to the barbarity and aggression inherent in a world populated by mortals. Zamasu will relieve taxpayers of this costly burden
(and their lives)
by shaping the world into a utopia that will never again suffer the need for such institutions.
Religion
Under Zamasu's tenure, all mortals will have the freedom to worship the only true God - Zamasu.